Thanks in large part to the notoriety brought on by the HGTV show Fixer Upper, Waco has landed on the national map of places to visit over the past half-decade. Chip and Joanna Gaines' Magnolia Market at the Silos also helped revitalize downtown Waco.
Thanks to the development's popularity—roughly 1.5 million visitors flock to the Market each year—a robust dining scene has cropped up across Waco. From casual pizzerias to popular Mexican fare to high-end dining, a common theme has emerged among the city's most popular establishments: outdoor patios. Whether you're at home on a cozy, intimate patio or more comfortable amongst friends in a massive Biergarten, Waco offers something for everyone. Here are 12 can't-miss outdoor eateries in Waco.
211 Clay Avenue, inside the Hotel Indigo

Designed into the Hotel Indigo, the sleek, contemporary Brazos Bar and Bistro feeds your senses on several levels. Regardless of whether you're visiting for lunch or dinner or weekend brunch, the Texas-fused cuisine incorporates local ingredients for a truly local flavor.

The chic modern bar is ideal and comfortable to unwind and take in happy hour. Move the party outdoors, and you're greeted with a simple yet relaxing patio area. Whether it's an intimate meal or a group event, the indoor-outdoor spaces at Brazos are the perfect combination for weary travelers or locals seeking something fresh and new.
601 S 11th Street, Waco

Prominently located near downtown Waco and Baylor University, Cajun Craft typifies the creative and unique cuisines helping define the city's burgeoning dining scene. Drawing from the owner and operator Kimberly Bui's Vietnamese heritage, Cajun Craft blends styles to create a Viet-Cajun culinary experience.

A highlight of Cajun Craft—aside from the oysters and abundance of savory fried coastal dishes—is grabbing a seat on the quaint "backyard" patio. Charming and rustic with a decidedly seaside-farmhouse vibe, the patio has permanent coverage and a lush natural canopy that sets the ideal casual ambiance.
Credit: Cajun Craft
5501 Legend Lake Parkway, Waco

Hubcaps on the ceiling, multicolored tile and wood paneling on the walls, a shrine to Elvis on permanent display. Of course, we're talking about the Lone Star Tex-Mex institution Chuy's. Even though the Texas chain has expanded, the brand remains a one-of-a-kind restaurant, and the Waco location is no different.

Chuy's serves up generously sized portions of your favorite Texas-infused Mexican dishes along with tasty margaritas and plenty of kitsch. You can escape the typically boisterous main dining areas for a comfortable, fully shaded spot on the patio.
6500 Woodway Drive, Woodway

Great Italian dining is just as much about the experience as it is the food. Luckily for Waco residents hoping for an authentic night out, Di Camplis delivers both sides of the equation. The authentic plates include classic Italian favorites and a well-curated wine list.

Not to be outdone, the patio area matches the main dining space's open, airy atmosphere, extending Di Camplis' comfortable elegance. There's also plenty of shade to beat the daytime Texas heat, and festive lighting at night creates a memorable outdoor Italian meal.
103 Archway Drive, Woodway

Located five minutes southwest of Waco, Hat Creek Burger Co. was a welcome addition to the Waco food scene as it expanded from its Austin roots and across the state of Texas. Hat Creek's Waco location is situated in The Colonnade business park in Woodway, just off U.S. Highway 84.

Serving breakfast, lunch, and dinner, Hat Creek's burgers are the menu's real star. Few things are better than enjoying one of Hat Creek's specialty burgers while kicking back on their large, covered (and air-conditioned) picnic-style patio. Just beyond the deck, young patrons enjoy climbing Hat Creek's massive playground.
601 Webster, Downtown Waco

Chip and Joanna Gaines of HGTV Fixer Upper fame need no introduction, especially to the locals and out-of-towners who frequent Magnolia Market at the Silos in downtown Waco. Credited with spurring the city's urban core's development and revitalization, the Silos provide visitors with a shared outdoor gathering space.

The outdoor dining experience at the Silos incorporates food trucks — a lot of them. From barbecue to pizza to hot dogs to sandwiches and even a few sweet treats, there's something for everyone. And there's plenty of space to enjoy your food truck fare, including open lawns, picnic benches, and courtyards with tables and chairs — all in the shadow of two of Waco's most endearing landmarks.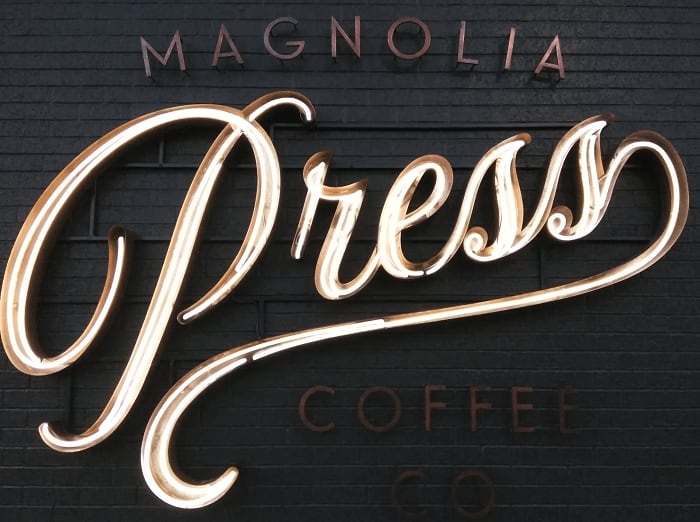 1201 Hewitt Drive, Waco
Prime Akashi beef. Sushi-grade fish. Farm-to-table produce. Refined eats such as these often require formal cocktail attire. Luckily for fans of sophisticated dining, Waco's One Thirty-Five Prime carries no such pretensions. Fine dining in an elegant yet remarkably casual atmosphere—it's comfortable and intimate, with a menu that wows the senses.
The patio at One Thirty-Five carries the theme outside. Cozy spaces for two. Settings to accommodate larger groups. And setups to accommodate everyone in between. Few patios match the vibe of their restaurants better than the outdoor space at One Thirty-Five Prime.
704 Elm Avenue, Waco

Revival Eastside Eatery—so named because it occupies the renovated space once home to the Waco Community Baptist Church—offers up one of Waco's best menus. Themed to fit its heavenly environs, the gourmet salads, sandwiches, and burgers are made with Texas-sourced ingredients.

While the old church setting provides a spirited experience inside, a large glass garage door takes your Revival meal outside. Large, comfy picnic tables make for a communal gathering space, accommodating big groups. That's a good thing, too—as with any inspiring house of worship, you'll want to bring plenty of friends on your return visit.
7608 Woodway Dr, Woodway

Great pizza begins and ends with great ingredients. Slow Rise builds on this mantra by creating its pizzas from scratch with fermented, slow-rising dough and locally sourced ingredients. The results are unique and delicious—pies with names like Kung-Fu Chicken, Waco Works, Barbecue Pulled Pork are particular highlights.

There's an industrial farmhouse vibe to Slow Rise, and the patio carries that theme well. It's a wonderful place to dine with the family. There's plenty of room for the kids to roam, TVs for watching Baylor's athletic teams, and a few cornhole sets should anyone want to partake in a raucous game or two.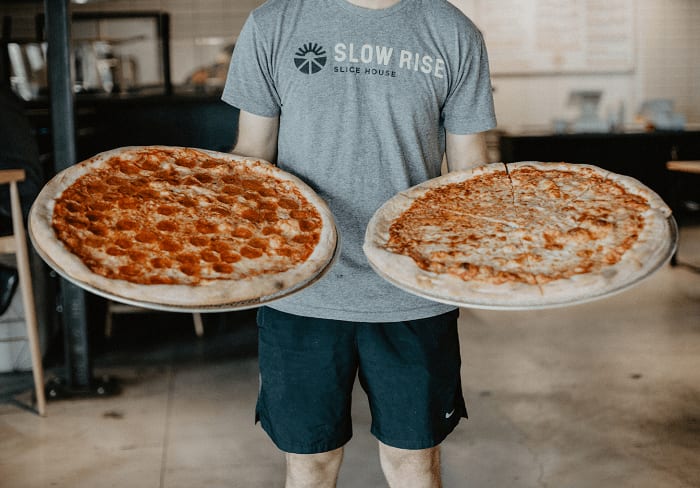 Credit: Slow Rise Slice House
1712 S 12th Street, Waco

While a locally owned and operated family pizza parlor near a major university may not be unexpected, what is unexpected is just how good the pizza is at Shorty's Pizza Shack. The offerings are uncomplicated: fried appetizers and garlic bread, wings, and outstanding pies—both artisan and New York-style traditional. There are also pizza pillows—Shorty's answer to the calzone—and hot dogs, because why not?

These staples of childhood, college-hood, and adulthood are best enjoyed on Shorty's massive covered patio. It is a great spot to hang with friends or watch a game. The outdoor space is open-air but closes up and stays heated in cooler months. It's precisely what you want out of your locally owned and operated family pizza parlor near a major university.
720 Franklin Avenue, downtown Waco

If you're seeking out a collective dining experience, then Union Hall in downtown Waco is such a place. Subscribing to a chic industrial vibe, Union Hall works to recreate a European food market, complete with a rotating group of vendors and culinary offerings. Burgers, ramen, tacos, waffles, and coffee are just a sample of Hall's roster of flavors. Overall, Union Hall houses 24 food stalls and three restaurants.

Part of the allure of a food hall is the eat-anywhere aesthetics—and at 18,000 square feet, there's plenty of "anywhere" to be found in Union Hall. That includes a covered outdoor patio, which, much like inside, accommodates its fair share of hungry downtowners.
1600 Speight Avenue
It's a market. It's a restaurant. It's a 100+ year staple on Waco's food scene. It's an establishment previously featured on both HGTV and ESPN's College Gameday (an impressive double). Vitek's Market is also where you'll score the Gut Pack, the eatery's signature dish of Fritos, cheese, beans, sausage, and your choice of pulled pork or brisket.
Beyond the gut-busting menu items—there are also tacos, sandwiches, and meat by the half-pound—Vitek's boasts what is arguably Waco's best patio. More akin to a country club pavilion, the brick, and wood-clad shelter is classic Biergarten, albeit Central Texas-style. With a bar to one end, a fire pit in the middle, and a cutaway Airstream for more intimate parties, live music entertains almost every night of the week.
Are you interested in buying luxury Waco real estate as a personal residence? Or are you seeking more information on investment homes for sale or have a property you're preparing to list?
Contact Melissa Hill today
and allow her years of experience and expertise to help you navigate the process and build your wealth through real estate.